Best Airpods 2 Alternatives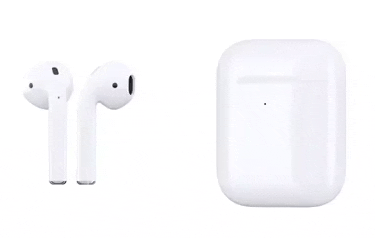 Best Airpods
®
Alternatives - 2nd Generation Black or White
Launched in early 2021, these are our 2nd generation of Wireless Gadgets Earbuds. These are not Apple Airpods® but instead a great alternative for a fraction of the price!
If you want the very latest version then check out our brand new Airpods 3 Alternatives. If you need the best sounding earphones, try our superb Airpods Pro Alternatives.
Since Apple® launched their Airpods® in 2016 they have taken the world by storm, and rightly so. They are an amazing wireless gadget that has become essential for anyone who likes listening to music, audiobooks, podcasts, etc. The downside to this freedom is that they are not cheap!
If you would like to know exactly how our wireless Airpods compare to the leading brand, please take a look at our Airpods 2 comparison video...
Please Note:Since this video was recorded we have significantly improved the battery life to around 4 hours!
Airpods are a trademark of Apple Inc., registered in the U.S. and other countries.
Our amazing alternatives wirelessly connect to any Bluetooth device that plays music. Most commonly this will be a smartphone, tablet, laptop, or smartwatch (regardless of brand).
Simple to operate, they let you listen to music, or take phone calls, whilst on the go. Just like the big old fashioned earphones but with full flexibility and a real sense of freedom.
They make a perfect gift for anyone who likes Apple Airpods® but does not want to pay around £120 - £200 for the privilege
* Full rich sound with solid bass (easily comparable with Earbuds)
* Incredibly comfortable for 95% of people (including kids 10+)
* Choice of white or matte black. (unlike the leading brand!)
* Wireless Charging (although cable also included)
* In-ear sensors (remove to pause, replace to restart!)
* An identical match to the leading brand for around a third of the price!
* Premium Packaging - perfect if you are giving as a gift!
Type: Bluetooth wireless in-ear earphones
Compatibility: Any Bluetooth enabled device
Time to Market: 2021
Bluetooth Version: 5.0
Operating Range: about 10m or 33ft(without obstacles)
Listening/Talk time: around 4 hours on a single charge
Charging Time: 30-60 mins
Charges from Case: 3 to 5
Charging Type: Wireless + Cable (included)
Dual Microphone: Yes (great for taking or making the odd call)
Control: Touch control
Volume Control: No, only via input device or Siri
Hey Siri?: Yes
In-ear Sensors: Yes
Bluetooth Name Change: Yes
GPS Tracking: Yes - so you can see where you left them!
IOS Pop-up Window: Yes but please note battery % is only approximate
Active Noise-Cancellation: No
Suitable for: Adults and Children 10 years plus
There are hundreds of really cheap Airpod® clones available these days. The trouble is you end up playing 'retail roulette' as to what you actually get. Most clones are far inferior to the originals (particularly in terms of reliability, sound quality, and battery life).
Even if the product looks the same, the internal parts can vary greatly! The upshot is that it is very difficult to know if what you're buying is any good. Inevitably, you get what you pay for - there is a reason the deals on Wowcher, eBay, GadgetsBuy, any variation of Phone4U, etc. are so cheap!
If you are unsure whether a website is genuine, please read our 7 Tips to spotting a fake e-commerce website.Whatever you do, please do not purchase "refurbished" Airpods®. A number of very similar websites, with seemingly good reviews, have recently appeared selling what they claim are "refurbished" original products.
Apple® does not design their products to be easily fixed, repaired, upgraded, or anything similar. These sites instead sell very cheap, poor quality, clones and pretend they are high-quality refurbs instead - simply not true! (see the evidence on our FB post).
If, on the other hand, you want the best quality Earbuds at a sensible price, then you're in the right place. All our earbuds are comparable to the leading brand in terms of looks, features, sound, and build quality. We offer a full one year warranty to back this up.
Order today and you can expect your gadget to be dispatched the following working morning. You should then expect your order to arrive in 1 to 2 working days.
Your delivery will be tracked and will be delivered via Royal Mail or courier . You will not normally need to sign for your delivery.
In the unlikely event that there is an issue with your earphones, we provide an excellent, 5 star, support service and a 12 month warranty period in which we will be happy to arrange a new replacement.
We are so confident you will like your Earbuds, we'll happily provide a full refund if you are not satisfied with your purchase. All we ask is that you return the product to us in 'as new' condition within 30 days of purchase.